Course details
【Ocean cats great satisfaction course】 Focusing on cuisine luxurious stuffing, beef tan charcoal grilling, with a pot "3 H drinks release 5000 yen"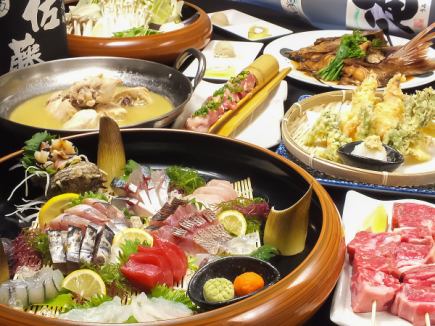 By using a coupon5000 Yen
◆ All-you-can-drink for 3 hours ◆
All-you-can-drink available

◆ All you can drink menu ◆
Available days for reservation

Monday - Sunday - Public holidays - Holidays
Focusing on cooking! This is a volume full scale course with a cup of sashimi, sashimi assorted with beef tangerine charcoal grill, boiled beef tender charcoal grill, fresh seafood using recommended dishes, and two special pots to choose from .This course of the general adult general who included the specialty of the kitty shop.As you can also have 3H drinks as you can, we are satisfied with the reception and the party.Please use it by all means!
Course menu
◆ Prepared 3 points
◆ Plenty of Itoshima vegetables and duck salad
◆ Plenty of fish in the season!
Luxurious board! Assorted sea fish salad with sashimi
◆ Specialty Beef Tongue Charcoal Grill
◆ Recommended dish using seasonal fish
We will respond if there are other requests such as cooked ground fish!
◆ Deep-fried food
Shrimp wonton wound
Spring roll of sweet potato roll
Tempura of seasonal vegetables
◆ Please choose from the next pot
Milky chicken soup thoroughly cooked and used Fukuoka old-fashioned foot flesh!
【Kaiko shop special water cooker】
Sautéed soy sauce squeezing skipjack from domestic black cattle cow's small intestine and chicken breast
【Special Hakata pot】
In Hakata is only a kitty shop! You can taste the pot with water · Together at the same time
【Ocean cat shop special 2 color pan】
◆ Dinner noodles or noodles
◆ Dessert
※ The content may vary depending on purchase
All-you-can-drink menu
·draft beer
· Kirin's best squeezed draft beer
· Bottled beer
· Kirin Classic Lager · Asahi Super Dry
· Fruit wine (rock · water split)
· Plain plum wine · Anzu wine · Blueberry wine
· High Ball White Hose Used
· High Ball · Cork High Ball · Ginger High Ball · Kyoho High Ball
· Shochu high
· Lime · Lemon · Oolong Tea · Giant Peap · Calpis
· Cocktail "Cassis"
· Cassis soda · Cassis Orange · Cassis grapefruit · Cassis oolong
· Cocktail "Via Cocktail"
· Lemon Beer · Limevia · Shandigafu
· Cocktail "Peach"
· Fuzzy Neeble · Peach Orange · Peach Mango
· Cocktail "Pims · Jin · Lamb · Vodka"
· Pimsusoda · Pimus Orange · Gimbak · Gin Tonic · Mojito · Moscommeur
·Sake
· Moon crown Hengda moon dry
· Shochu
· "Tato" Black Kirishima · White Kirishima · "wheat" white water · "rice" white water
·wine
·Red and white
·Soft drink
· Oolong tea · Coke · Orange juice · Mango juice · Grapefruit juice · Ginger ale · Calpis soda
2018/10/29 update