Course details
Kaikoya enjoyment course ◆ 4000 yen ◆ 2 hours 30 minutes with all you can drink ◆ Lots of popular dishes! 【No pot】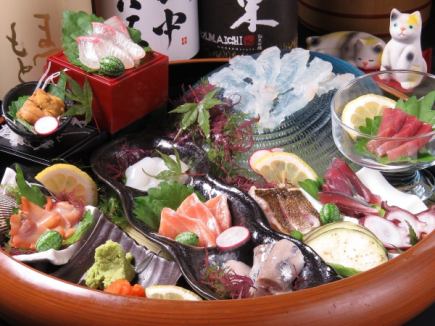 By using a coupon4000 yen
All-you-can-drink available

◆ All you can drink menu ◆
Reservation deadline

Until 18 o'clock on the day of visit to the store
Available days for reservation

Monday - Sunday - Public holidays - Holidays
It is a course with all you can drink for 2 hours 30 minutes to a popular recommended dish.Today's recommended main dish using seasonal fresh isojima vegetable salad sashimi assorted assorted sashimi platter, locally chicken charcoal grill, seasonal deep-fried dishes and seasonal seafood Main dish, deep-meal prepared with water cooked We offer a special Chinese noodles with soup and seafood combined soup.
Course menu
◆ Prepared 3 points
◆ Plenty of Itoshima vegetables and duck salad
◆ Plenty of fresh ground fish!
Assorted sashimi platter
◆ Sweet potato chicken
Charcoal grilling of thigh and celery
◆ Recommended dish of the day
【We will respond to other demands such as boiling seasonal fish fish】
◆ Deep-fried food
Shrimp wonton wound
Spring roll of sweet potato roll
Itoshima vegetable tempura in season
◆ Soup with soup stocked with water cooked and soup with Japanese food and seafood soup
Specialty Chinese noodles
Or you can change to cold Goto udon.
◆ Dessert
All-you-can-drink menu
·draft beer
· Kirin's best squeezed draft beer
· Bottled beer
· Kirin Classic Lager · Asahi Super Dry
· Fruit wine (rock · water split)
· Plain plum wine · Anzu wine · Blueberry wine
·Highball
· High Ball · Cork High Ball · Ginger High Ball · Kyoho High Ball
· Shochu high
· Lime · Lemon · Oolong Tea · Giant Peap · Calpis
· Cocktail "Cassis"
· Cassis soda · Cassis Orange · Cassis grapefruit · Cassis oolong
· Cocktail "Via Cocktail"
· Lemon Beer · Limevia · Shandigafu
· Cocktail "Peach"
· Fuzzy Neeble · Peach Orange · Peach Mango
· Cocktail "Pims · Jin · Lamb · Vodka"
· Pimsusoda · Pimus Orange · Gimbak · Gin Tonic · Mojito · Moscommeur
·Sake
· Moon crown Hengda moon dry
· Shochu
· "Tato" Black Kirishima · White Kirishima · "wheat" white water · "rice" white water
·wine
·Red and white
·Soft drink
· Oolong tea · Coke · Orange juice · Mango juice · Grapefruit juice · Ginger ale · Calpis soda
2018/10/29 update